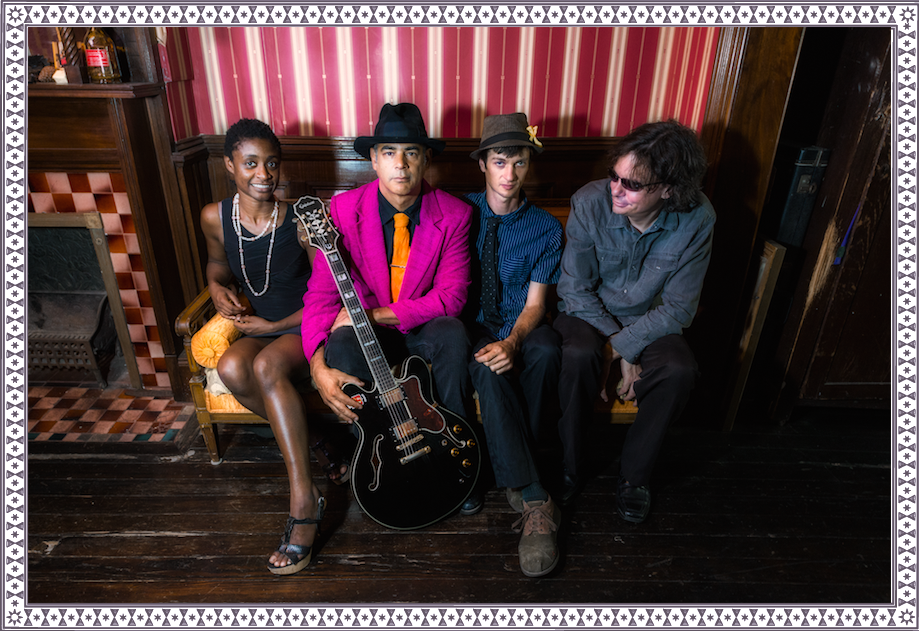 Indy blues rockers Goddess Lakshmi cut their teeth for one and a half years with a weekly residence at the rough and tumble Paris Blues in Harlem.  They have performed throughout New York City at venues that include; the historic Bitter End, The Mercury Lounge, Pianos, Parkside Lounge, Spike Hill, The Way Station and The Paper Box. 
They have produced 4 albums. The most recent, Live at The Harlem Flophouse is currently charting at #37 on the Roots Music Review national listing. Working with TwinVision they are currently in rotation on over 183 terrestrial radio stations. They have interviewed/performed live on WHCR Harlem, WEMF Boston, WTCC Hartford, WLFR Pomona NJ, WXCI Danbury Ct. and Radio X in Frankfurt Germany.
Their recent Mayflower Tour began in New York City and took them to; Springfield, Hartford, Becket, Lowell, Boston, Philadelphia, Washington DC, and Baltimore.
A thinking persons band, their diverse influences include blues, rock, reggae, jazz and German metal. Led by NYC fringe theater veteran René Calvo, the band delivers on tuneful, witty and provacative entertainment that you can dance to.
"The Goddess Lakshmi is a prime example of the thriving jazz and folk sounds that came together during the Harlem Renaissance with nods to the beatnik cool of the early '60s. Harlem is the birthplace of the band and its honed musical style…"

— Adrienne Bess, JOONBUG
René Calvo, composer and leader of the band came to New York City as a dancer working with Yoshiko Chuma and The School of Hard knocks. After some years performing in the downtown post modern scene he turned his talents to the theater. He created the off off Broadway serial Ailanthus Grove. The show ran for 72 episodes in a series of downtown NYC venues including, The Kraine Club, The House of Candles and Workhouse Theater. He then created, as Artist in Residence at The Workhouse theater, the serial SPYZ which ran for 16 episodes. The cast and crew of these shows featured scores of talented New York City artists many of which were OBIE award winners. Several cast members went on to have successful careers in film and television. At various intervals these included; James Urbaniak, Jan Leslie Harding, Chuck Montgomery, Asif Mandvi, Paul Giamatti, Dean and Scott Winters, David Greenspan, Eduardo Muchado and Film-maker Laura Kirk among others. Concurrently he bought a dilapidated townhouse in Harlem and transformed it into The Harlem Flophouse. Internationally recognized for its unique beauty it has been the featured location in numerous fashion shoots, films and videos.